We all Know all Bloatware/preinstalled applications on our smartphones are not useful. By removing such apps that you don't need, you can easily improve/increase your phone performance and also free up a lot of storage space. Applications that you don't want but not able to uninstall are known as bloatware. Normally, bloatware is hidden in the system folder, which you have no permission to access. With the help of the below post you will be able to disable, delete, remove, or can at least hide any of your preinstalled application and bloatware.
If you follow the below steps you will be able to remove preinstalled apps from your Non-Rooted and Rooted Android Android Device.
Removing Bloatware/Pre-Installed Apps from Non-Rooted Android
Firstly you need to activate/enable the developer's option by going to the Settings –> About Phone –> Build Number (Then Tap on The build number 7-10 times and developer options in your phone will get activated ).
After activating/enabling the developer's option in your phone you will be able to see the developer option in your phone settings, next tap on the developers setting, and scroll down till you find the USB Debugging option enable the USB Debugging.
Now you have to download and install the latest Debloater tool into your Windows PC and that will help you to remove any system apps or bloatware from your device.
Connect your Android device/Phone to your Windows PC with the USB cable and wait for the tool to detect your device.
Once the Tool detects your device, you need to verify the applications that are currently installed on your device, and this will include your system apps also. Mark all the apps that you want to remove from your device.
Click on the apply button, and this will block/remove all the apps/bloatware from your device, and these apps will be no longer be there on your device/Phone to consume any of your memory.
That's it! now all those apps will be removed from your device, and your device storage will be free from them.
Removing Bloatware/Pre-Installed Apps from Rooted Android
Install an application from Google Play Store. Enter any keywords like "remove system app" or you can search for "System app remover", you will get a lot of apps in the result. Download only "system app remover" developed by developer JUMOBILE.
Launch the application, and You need to provide a superuser request for the first time.
Select the apps you want to uninstall and press uninstall.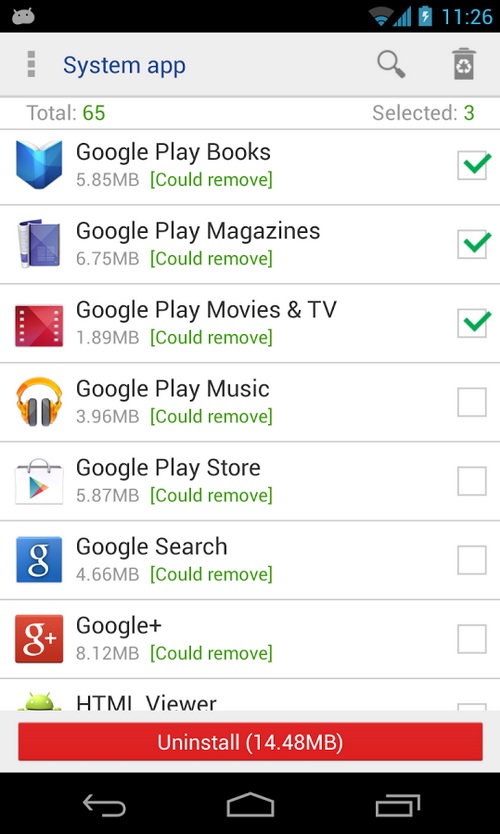 That's it, you are done!